April 18, 2023, 7:00pm | Memorial Union, Great Hall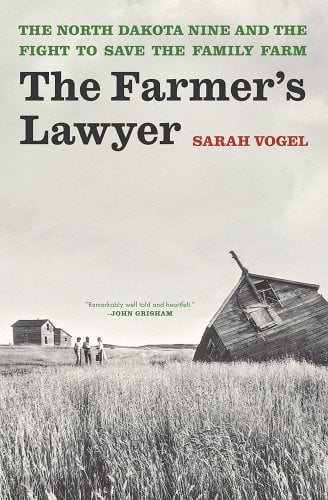 Sarah Vogel will read from and discuss her book, The Farmer's Lawyer, the riveting story of the class action lawsuit, Coleman V. Block, which she won against the USDA's Farmers Home Administration to protect 240,000 family farmers facing foreclosure. In the early 1980s, farmers were suffering through the worst economic crisis to hit rural America since the Great Depression. Land prices were down, operating costs and interest rates were up, and severe weather devastated crops. Instead of receiving assistance from the government as they had in the 1930s, these hardworking family farmers were threatened with foreclosure by the very agency that Franklin Delano Roosevelt created to help them.
In this David and Goliath legal battle reminiscent of A Civil Action or Erin Brockovich, Sarah Vogel brought a national class action lawsuit, which pitted her against the Reagan administration's Department of Justice, in her fight for family farmers' Constitutional rights. It was her first case. The Farmer's Lawyer documents how the farm economy we all depend on for our daily bread almost fell apart due to the willful neglect of those charged to protect it, and what we can learn from Sarah's battle as a similar calamity looms large on our horizon once again.
BIO:  Sarah Vogel is the first woman elected state Commissioner of Agriculture in US history, and one of the nation's foremost agriculture lawyers. She has received numerous awards and honors, including a Distinguished Service Award from the American Agricultural Law Association and a Lifetime Achievement award from the Democratic Nonpartisan League of North Dakota. Vogel is best known for her work as lead counsel on the historic national class action case, Coleman v. Block which is also the subject of her memoir, The Farmer's Lawyer (Bloomsbury, 2021). Library Journal calls the book, "on par with Erin Brockovich." Vogel has also served as co-counsel on the Keepseagle USDA race discrimination case and has been hailed "a giant killer in ag law" by The Nation. She currently serves as a Member of the Agriculture Subcommittee to USDA Equity Commission and speaks nationwide.